Currently listening to:Mushabom by Feist
Status:Well, i lost my voice… but im so damn proud of them!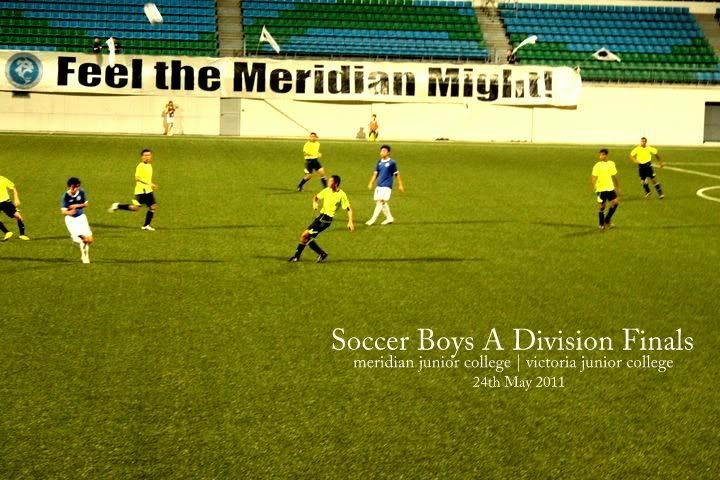 Rushed down to Jalan Besar (Spell?) after work today for the A Division Soccer Boy Finals; Meridian against Victoria.
Jag and his Vuvuzela. That thing is Loud, Loud with a capital letter bold font and italics applied.
Meridian Soccer Boys emerge A Division Champions again. Did i hear the words.. Champion? And Legen-waitforit-dary? Did i mention champion? Champion champion champion .. oh yeah i did.
Screaming till my head went dizzy from the lack of oxygen, jumping dancing hugging in five inch heels, drenched in school spirit and reflected europhia. I know nuts about soccer but what i do know is if a team doesn't concede a single goal in the entire season… they're probably a pretty damn good team.
The match was one of the most exciting experiences of my entire life.. EVER.. and that includes last year's finals playoff as well as the deceivingly harmless-sounding Scooby Doo ride at Movieworld Australia when i was ten, so i think that says a lot. MY HEART CANNOT TAKE THIS KIND OF SHOCK i really almost burst out into tears/threw my heels at the field/died with every twist.
I thought to myself: this is nice, all these meridians here sunning themselves in reflected glory and laughing and celebrating in sheer delight. Those of us in the stands didnt play, but it seemed none the less real to us. These are drunk individuals united in intoxication on pure school spirit, moments like these are what you look back on and remember after graduation.
This year Meridian's Floorball boys and girls each came in champions, soccer girls came in third, and from what i hear, the badminton team's doing pretty swell too with the last few games of the season coming up. Meridian's performing arts clink with the sound of golds, and while i dont believe that accolades should be what defines you/value/the individual/school,you cannot deny that it does make you feel pretty damn good.
Each meridian shares in a little of that exhilaration with each ball kicked, each note sung, each pirouette executed, and this feeling doesnt diminish after graduation. The sheer volume of the alumni turnout today proved that-and its a lovely feeling.
Right, enough yakking from me. More photos:
Lightfoot fan club.
Aiyo my face so red i look like a pao. Seriously, the stadium was Steaming. I mean that in every sense of the word.
lollolol soccerboys girlfriend club so supportive they made banners/signs for their onfield boyfriends! (Photo lower right)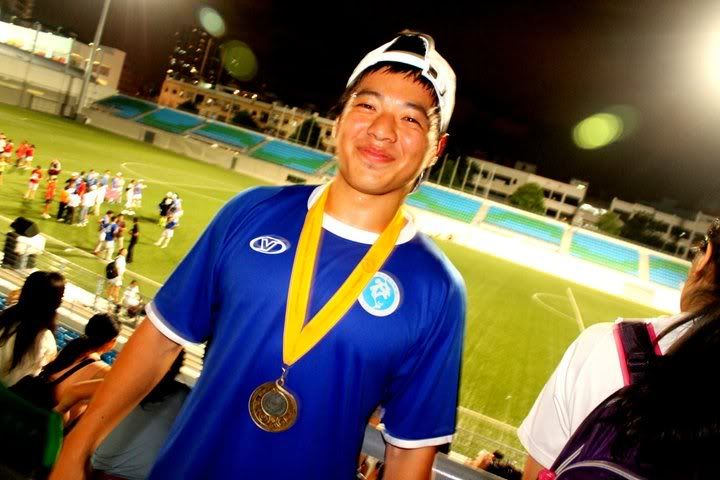 Smelly champion tang.
Seriously, everytime the boys win a match, Tang does this victory-dance thing. I saw it at last year's finals, and it recurred this year. He probably choreographs it at home/with ern's help and practices it everynight before he goes to sleep; I think i've got it figured out. It goes something like this Right hand up Right hand down Left hand up Left hand down Shuffle shuffle Hop from Leg to Leg.
Great i successfully made tang sound like a battery operated Fisher-Price Elmo toy.
This little sweetheart ran out onto the field after the game.
FEEL THE MERIDIAN MIGHT! …. Stares at tiny kid.
He even looks like a smurf, dressed loyally in meridian blue. You shoulda heard the squeals when he ran out, this boy is going to grow up to be a heartbreaker, just you look at him workin the crowds and smiling sunnily up at all them ladies, in the words of namira.
MINI MAN OF THE MATCH? i think so.
They look like they're high on ecstasy.. justifiably.
Prize giving ceremony
Naufal holding up the trophy.
You can view the rest of the photos here: one, two.
if you're my friend on fb PLEASE HELP ME TAG OK 447 photos taken is not funny…
Man of the match (the real one, not the teeny boy up there) was Mohd Amsyar from MJ: they award man of the match titles according to the number of goals.. or something, im not too sure? But in any case i do think that the real sweetener in this one was the fact that he was a Striker, yet when Lightfoot was redcarded (something i got up and screamed my head off over, connie next to me almost cried), Amsyar took over as goalkeeper.
Talk about versatile!
I didnt count, but i also heard that MJ was playing a ten man team against VJ's eleven (the standard is eleven but i think we had a few injured players)- i guess that means amsyar doubles as two players. Respect man.
Very proud of the rest of them: tang, des, khair, etc. I came home and painted my nails a resplendent celebratory glittery gold.
Presenting, our Meridian soccer team 2011:
The full update, blow by blow account, of the match will probably be up on Redsports soon enough- you can read up if you're interested!
Dinner with:
Ah, i've also officially lost my voice after screaming so much in the stadium. I dont speak anymore, friends, i squeak. Its an annoying-as-hell sound, i piss myself of every time i try to talk. Sigh.
I have also been thinking of getting a film camera lately.
x
♥Jem